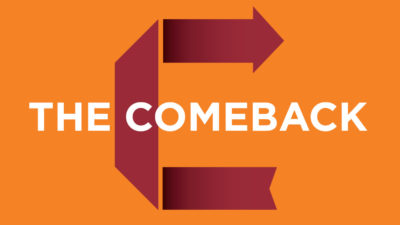 The Comeback (Family Life On Wednesday)
September 5th - October 10th, 2018
Family Life On Wednesday for this fall will begin on Wednesday, September 5th @ 6:30 pm. I welcome you to join us for a new series, The Comeback, a 6 week video/workbook study by Louie Giglio.
We all know what it feels like to have life disappoint us and not work out as we'd hoped. We all know what it's like to long for something different, something better, something more.
The Comeback celebrates new beginnings. It offers encouragement and perspective, and it's for you if you feel frustrated or confused, if you're enduring hardship or pain, if you've made mistakes or are grieving, if you're defeated or feel as though you've lost your way.
The good news is that God is in the business of giving fresh starts to people. He gives hope to the hopeless. Direction to the directionless. Help to those who need help. God's plans will always prevail, even when our plans don't.
No fee.
4 Men Only
September 7th - September 8th, 2018
$0
Men's Conference
Topic: Love - Life - Liberty
Come and be loved for life and liberty, so you can walk in all that God has for you.
A time to be strengthened, encouraged and challenged!
Please feel free to invite any guys you know to join us!
$10 registration fee goes toward refreshments; any remainder goes to the church.
'Not by might nor by power, but by my Spirit,' says the LORD Almighty."
Starting Over/Boundaries in Dating
September 11th, 2018
13 Weeks beginning September 11
STARTING OVER: A four part video series by Andy Stanley. We've all had the experience of putting something together on to have to take it apart and start over. Career. Marriage. Dreams. But how do we break the cycle of mistakes and failed attempts?
BOUNDARIES IN DATING: A nine part video series by Dr Henry Cloud & Dr John Townsend. If many of your dating experiences have been difficult, Boundaries in Dating could revolutionize the way you handle relationships. Setting and maintaining Boundaries will help you grow in freedom, honesty and self-control.